While it's true that I have lots of really cool stuff that I get to mess with, its also true that it is considerable work. But I love it because the technology is truly awesome, because it provides us with new ways to perform compose and record. 
It seems to be true though that lots of guitar players are resistant to new technology, resistant to change. Eager to stay with the tried and true tube amp and classic style electric guitar. Why fix it if it ain't broke, they might say. I have a theory about why many guitar players resist new technologies and piano players don't. But that's a conversation for another time. 
Change can be scary, no question there. But the telephone wasn't broke when Steve Jobs got his hands on it and look what he did. So….the next time you come back from a heavy work out at the gym and are deciding if you need to get changed out of your work out clothes before hanging out with you buds, remember… 
CHANGE IS GOOD.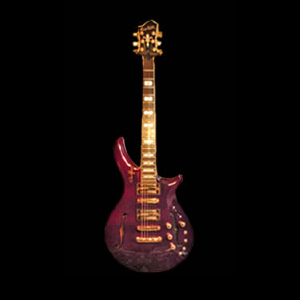 Signature by Hagstrom
The Burr Johnson Signature model was made in 2009. David Lee is its mother as it was his hands that brought it to life. In many ways one the the best I've played. The vibration, resonance, and sustain are outstanding. It has the Graphtech Ghost 13 pin din midi /acoustic guitar pickup system built in. Also Alumitone pickups by Lace. These electronics are stunning and help to not only create really clean midi guitar signal but also superior tone. This is the second version of this model and there are some issues that still need to be ironed out (weight, the neck radius, the finish, to name a few). But the tone is so thick and jucy its hard to imagine. Everyone is very eager to see the latest incarnation of this ever changing beauty.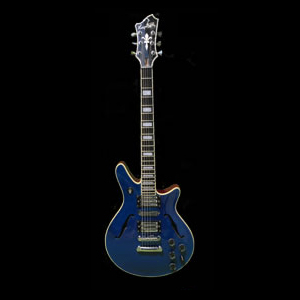 Signature by Hagstrom
This is the Burr Johnson Signature model Hagstrom guitar in Blue. this one has the Alumitone pickups from Lace Sensor. Super awesome pickups that both sound amazing and are very light. They also look really cool.

This guitar of course has the Triple Play midi guitar system built into the body and is receiving its signal from the piezo crystals found on the bridge. This and the red version also both have the Graphtech ratio tuners in the headstock. One half turn equals one half step in tuning.

Super useful and accurate.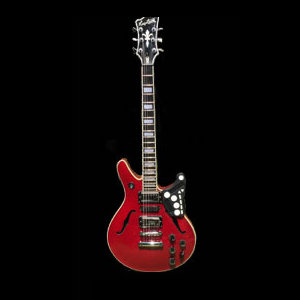 Modified Signature
This is the latest incarnation of the Burr Johnson Signature model. Craig Smith, David Lee and I have worked to modify it from the original.

It has a more modest upper horn and no 13 pin divided pickup. Same neck and body dimensions though. and this puppy has the Triple Play midi guitar system built into the body.

That is a huge development for the evolution of midi guitar playing.

I also have the Guitar Wing attached to the lower horn.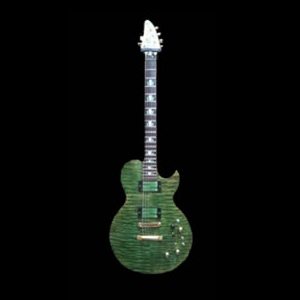 Brian Moore USA Custom DC1
If you haven't noticed, this guitar is the same exact body style as the other Brian Moore guitar . This is the USA custom shop DC1 (2004) and definitely one of my favorites. I just called them up one day and said I was tired of playing the Korean model and wanted to step up to a USA custom and they said yes before I had a chance to explain all my reasons. The neck is very different from its Korean brother. took some getting used to. Very light and comfortable to play. Alumi-tone pickups ups for the magnetic side and Graphtech for the midi side. I feel quite at home with it. Sadly though, the emerald paint job they did is starting to fade. Kind of gives it a vintage character, but I still preferred it unfaded.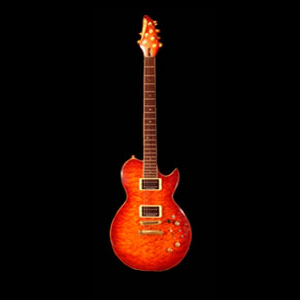 Brian Moore DC1
This is my first endorsement guitar (2001). I was at my local music store and the owner mentioned that I might want to check out the Brian Moore guitars (since they have midi electronics in them and I'm a midi guitarist) so I contacted the company, went to their factory and they seemed quite happy to set me up with an endorsement relationship. This is a korean made DC1 body style. Everything is great about this guitar. 24 3/4 inch neck, 12 inch radius, Semour Duncan pickups, Graphtech Ghost Acousti-phonic/midi guitar pickup system, beautiful maple top, mahogany body. Everything a growing boy needs. So easy to play as well. I did a lot of gigs with this guitar and was really happy doing so.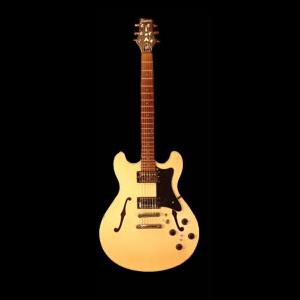 Framus
The Framus came to me because Warwick wanted me to play one of their guitars when I demonstrated the Ghost midi system at the Music Messe in Frankfurt that year. I played and liked it well enough. But my Hagstrom signature model had just been delivered to me and I was obsessed with that one. Having the signature finally in my hands after all the delays was a huge distraction from the Framus. But I knew I liked it so at the end of the show I persuaded the German fellas to let me take it home. Well I still didn't play it much cause I was trying to make the Burr model work for me. No so lucky there. The instrument (the Burr) has many issues (perhaps like the guy it's named after) and I just couldn't make it work in its current incarnation. But enough about that guitar, this page is about Mr Mayfield up there (that's the model). Now I'm mostly playing the Mayfield and am delighted with the neck, radius, string spacing, fret height, tone, sustain, weight and finish... other than that, I can't stand the thing.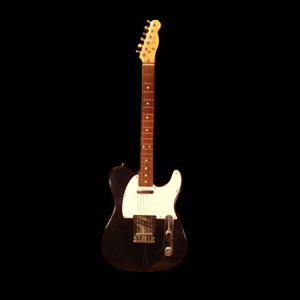 Fender
Fender guitars, like Glbson and Martin guitars come with a certain brand status that are unique to them alone. They all have had their strong periods and weak periods, but people still seem to love them. But it is kind of nice to have one or two around, especially if they are gifts. My friend Kate Greatser gave me this guitar (it was originally her fathers). I think she wanted me to keep it safe and never sell it (anyone wnat to make me an offer?....just kidding) This Fender Telecaster model is from the early 70s and looks and plays great. The neck needed some work done on it, and my good friend Kyle Weis took it in and fixed it up amazingly. It has a 25 1/2 inch scale length neck (like my LGX model , and as I mentioned before, I'm a 24 3/4 inch guy. But despite the longer neck, I still like playing it. No midi equipment in this one though, strictly analogue.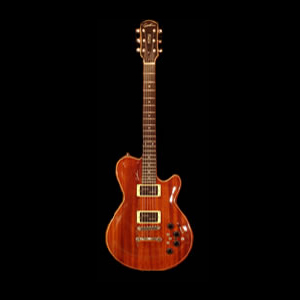 Icon by Godin
This is the Icon model by Godin. They sent this to me December of 2010. I performed with it at the 2011 winter NAMM show and was quite pleased. This one has been on many a gig with me and worked great! It has a chambered body which really helps to produce a very pleasing round and full bodied sound. The neck has a 12 inch radius (just the way I like it). Having more of a curve on the neck makes playing chords more comfortable further down the neck. It is also outfitted with the Graphtech Ghost Pick-up system and Alumnitone magnetic pick-ups, the combination of which provides excellent tone and really clean midi signal. Very light at about 7.5 pounds. Great for long gigs.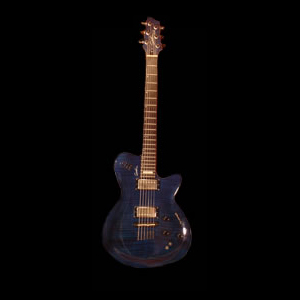 Godin LGX
I was given this Godin LGX model back in 2005. Godin guitars are just so playable, they are hard to resist. Even though this neck is a 25 1/2 inch scale length (which is the longer type neck which I don't care for), I wanted to play it anyway and really enjoyed doing so. 25 1/2 is just not for me though so I perform with it usually on gigs that are less technically demanding. The body is scalloped around the edges which give it more of an "archtop" feel to it. I love the controls for the acousti-phonic pickup (sliders on the upper horn). Great placement for easy access. Plus this color is killer. The Midi electronics in this guy are made by RMC pickups.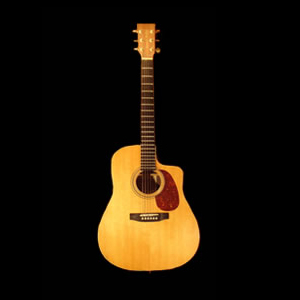 Simon Patrick by Godin
This I think is the oldest member of my collection. Or maybe its the Gibson. I bought them just around the same time 1995 or 6). This a Simon Patrick model from Godin. It has aged beautifully. the tone is so much better than when I first bought it. The LR Baggs electronics have always worked with out any problems at all. I recorded my first version of the song Another Time on this guitar. Actually I wrote that piece for this guitar because I wanted to have a really nice "scoustic style" song to play on it. Such a work horse its been. I've taken it everywhere. The neck has that typical playability that I know comes with Godin guitars. Here's a little bit of inside info for ya... Simon and Patrick are Robert's kids (the owner/builder of Godin guitars)... so... he named this line of guitars after them....kind a nice, huh?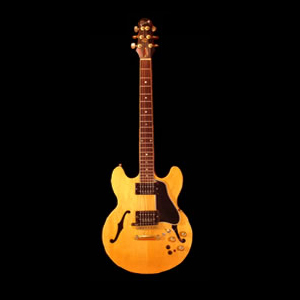 Gibson ES 336
This is a Gibson ES 336 model guitar. A 335 miniature (about 20 percent smaller than a regular 335. They came out with these in the mid 90s. After a year or so the neck started to twist and my good friend David Lee said he was not hopeful for the guitars future. But he took it in and did massive work on the neck and basically sanded it straight. The guitar also used to be wine red but David had to strip the paint off the beast because the AIX 101 plastic control box that had to be suction cupped to the face of the guitar had basically ruined the finish. He had the guitar for a really long time and when I got it back I was practically in tears because of how great it played and sounded (Semour Duncan pickups, by the way). After the paint job was damaged, David installed an internal Roland hexaphonic pick up to do the midi stuff, and its remained there ever since. The neck feels great, but its to fat for my taste (a bit like a baseball bat)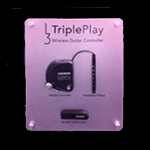 The Triple Play
The Triple Play is a wireless MIDI guitar controller that mounts on your guitar and converts the analogue to MIDI, and then transmits the signal to a dongle that usb connects to your computer. Pretty cool huh? It does a great job and has been exploding on the market. I have a Hagstrom signature guitar coming out in January that will have the Triple Play technology inside the body. Its a really great looking guitar and the Triple Play works even better here. But either way, its a must have for composing, performing and recording.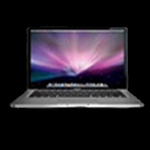 Software
I'm a digital Guitarist. This means my guitar signal (the "sound" that travels out of my guitar) is converted into digital information (1s and 0s) and then sent into my computer plugins, like Guitar Rig (software that alters the sound envelopes). From here a person can look at that software and see lots of familiar images from his past (foot pedals, rack boxes, old girlfriends, Amps, and the controls that go with them (even new type stuff is made to look like stuff you're use to seeing.
Its made to look familiar so as to put the techno-phobic guitar players at ease. With these controls you can make seriously awesome changes to your sound to use in performance and recording. All the sounds for the midi data is also stored and controlled (using software like Triple Play, Mainstage or Kontakt) in the computer for use in performing and recording. Macs are very reliable and I have enjoyed using this kind of technology for both stage and studio.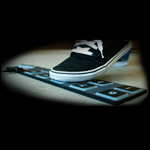 The Softstep
Keith McMillen makes amazing products. Always has. He is innovative, complex, determined and good looking to boot. I've know him for ever. I am proud to use his creations on my stage. The Softstep is an elegent footpedal controller that can do so much more. Its light and easy to set up and has an endless variety of applications. Everyone should have at least two. Go to their website, you'll never leave: https://www.keithmcmillen.com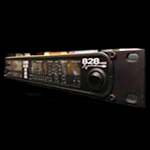 Digital Performer
Mark of the Unicorn has been around for ever and has been a part of the world of digital Music since the beginning. I love this company. One of the first companies to get really effective low latency with their audio interfaces. I love their DAW, Digital Performer, and am a big advocate of the I/O interfaces they have made over the years. I've made many records with the 828 and have had many happy customers. Most of the albums you can buy on this website were made with this fine Audio box. Check them out https://motu.com/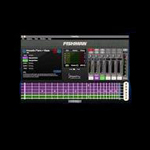 Fishman Wireless
Here we have the software that runs all the awesome features the Triple Play has to offer. With it you can easilly access all of the sounds that come bundled with the Triple Play. This small application/plugin is vital for the power user. Its great that the app doubles as a plugin for your favorite DAW. Plus, the program offers an audition feature where you can listen to the sound first to decide if you wnat to use it. I wrote the majority of the auditon licks and grooves, so please let me know what you think.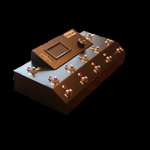 Gordius
My endorsement with the Gordius began when my good friend James O'hara and I were looking with Fred Daniels (The Freddie) for a good foot pedal to interface to the music only computer. We decided this was the best choice because of its many features and versatility. Sadly it did not have a mac editor so it was a pain to learn. But now, a year or so later, it has an excellent version of the editor for the mac and it works great. The Gordius is a great midi foot controller. Within it I have created two banks. The first bank is responsible for changing the patches in the Axon and Main Stage for the instrument plug ins I trigger through midi. The second bank is responsible for changeing the patches inside the stand alone version of Guitar Rig (the effects plug ins I use for my regular guitar tones) The Gordius seems very reliable (I've only had it a short time) and I'm looking forward to a developing relationship with the Belgium company that created it.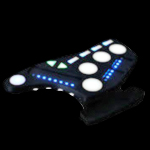 Livid Guitar Wings
Livid makes the Guitar Wing.

This product represents the beginning of fundamental changes that will be taking place in the world of live guitar performance in the coming years.

Midi guitar gave guitar players the ability to use the guitar in many new ways. Using controllers like the Wing will also swing open the doors for truly exciting and innovative ways of making sound and altering it in real time.

There is more to come, mark my words.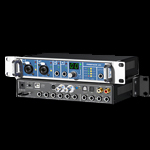 RME Fireface UC
This is the RME Fireface UC. It is an audio interface. Its job it to receive incoming audio signal (also midi signal) and send it into your computer. I can plug a bunch of stuff into it if I needed to (several microphones or line level instruments) but I just send my guitars analogue signal, the midi signal, and my microphone for the occasional song I might sing or to regain the audience with Burr silliness. The audio interface is a very important part of your rig. if you want to have good sonic success doing digital sound, your analogue to digital converters have to be highly sophisticated. Otherwise you get a thin, crappy tone that is impossible to work with. The Drivers in the RME stuff are also great for the midi transfer. Overall this is a very reliable box that really helps me get great tone.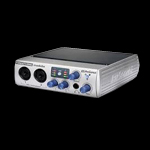 Presonus Firestudio
This is the Presonus Firestudio audio interface. When they sent this to me to audition, I was very pleased and have used it on many many gigs and demonstrations at trade shows and music fairs all over the world. It is very reliable and has the Burr-Brown converters that give it such excellent sound. Presonus is a really terrific company and has a great line up of products to look at and put on your wish list. Check them out: Presonus.com. You'll be glad you did.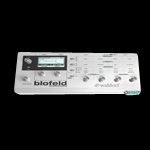 Biofield
.... I needed a hardware synth so I pitched the idea to the MV Pro Audio people that with an endorsement relationship with them I'd be able to include the Waldorf Blofeld in some of my performances and videos.

So we worked out an arrangement and its been great. They are really great guys and have a lot of super products in their arsenal.

Check them out.

https://www.mvproaudio.com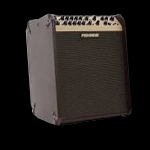 Loudbox
Since my work with Larry Fishman and the Triple Play wireless midi guitar system, I've gotten nicely acquainted with the other products Fishman sells.

Since I'm endorsed with this wonderful company, I regularly use and promote all the amps in the Loudbox line.

All great amps with greater clarity and bottom end then amps that are way more expensive.

Larry's really done well with this line and I love them on my stage.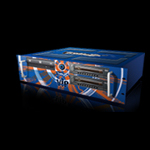 Music-Only PC
Fred Daniels has been coming to my shows at NAMM for as long as I can remember. He is a soft spoken fellow who wants to make digital music easier to access both for him self and everyone else. He has created a P.C. based music only computer that holds software for music from many of the top manufactures in the buisness. With this device (called the Freddie) a person can play some of the greatest sounding instrument sounds by playing on a keyboard, or midi guitar, or midi drums. You can also plug your regular guitar straight in and access great effects plug ins (like Guitar Rig, or Amplitube, or TH2). I performed with this at the 2011 NAMM show and was quite happy with its speed and reliability.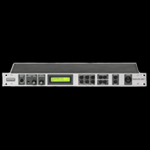 Axon
The Axon has been in my musical world since 1995 when I heard from one of my favorite college professors Ted Clancy that there was a new pitch to midi converter from Germany that I might want to check out. I did not want to go back to a retail music store and listen to some kid tell me all about the world of guitar synthesis, especially when they often had little idea of what they were talking about. So I called the distribution company and asked if I could come directly to them to audition the beast. At that point in my life I had basically given up on midi guitar and gone back to straight analogue playing. So I was very skeptical.
David Lee the then product manager for the thing set the unit up and I started testing it. He said he could tell I knew what to look for and how to test it. I told him about my long history with midi guitar and how I had stopped because the previous technologies did not work. We talked for a long time and at the end of the meeting he offered me a job as the principal demonstrator for the Axon. So up until a couple of years ago, when they stopped making them, I was demonstrating with this wonderful machine at numerous trade shows all over the world. Nearly every album I have made (I have nine) has had the Axon involved. It has been a great companion for my writing and my performing. Now the Triple Play is on the market and is basically the successor to the Axon. Its a great new product and is filling the void.